July 30, 2018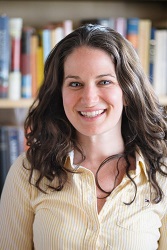 I am delighted to announce that Nicole Milano has been selected to be the new Head of the Medical Center Archives at NewYork-Presbyterian/Weill Cornell Medicine, and her appointment is effective August 6, 2018.  Ms. Milano comes to Weill Cornell from the American Field Service (AFS), where she served as Head Archivist and Historical Publications Editor. At AFS she transformed the Archives into a thriving program that is deeply embedded in the organization, and inculcated the organization's history into its current culture.   Ms. Milano is also a course instructor on management of archives and special collections at the Pratt Institute's School of Information, one of the most respected archival training programs in the New York metropolitan area. 
Ms. Milano earned a Master's Degree in History from the University of Florida, and an Advanced Certificate in Archives from the New York University.  She is very highly regarded in the archives profession, locally and nationally, through her work with the Society of American Archivists Publications Board, her many presentations and publications, and mentoring students and interns.  Ms. Milano was in the 2018 cohort of the Archives Leadership Institute, a highly selective program that recognizes and trains emerging leaders in the archives field.  As Head of the Medical Center Archives, she will be a valuable member of the Samuel J. Wood Library's leadership team.
Please join me in welcoming Nicole Milano to NewYork-Presbyterian/Weill Cornell Medicine!
Terrie R. Wheeler, AMLS
Director, Samuel J. Wood Library and C.V. Starr Biomedical Information Center