The library's EZproxy service is primarily for current WCM students, faculty, staff, and NYP-WCM residents/clinical fellows while off-campus and users located in the NYP David H. Koch (DHK) Center building (on campus).
When accessing the Weill Cornell Medicine Library's paid/licensed subscriptions on or off campus, it is best to start from the library's website, http://library.weill.cornell.edu since the resources are configured to go through EZproxy.
However, if you are directly accessing an article, journal, or database URL/link without starting from the library's website, you will need to install the bookmarklet or add the EZproxy prefix.
NOTE: Please allow the following in your browser to use EZproxy.
Allow pop-up windows.
Accept third-party cookies.
Enable javascript.
NOTE: Users in DHK will be automatically authenticated through internal IPs when accessing resources through the library's website ON CAMPUS only. NYP-Weill Cornell users who are not WCM appointed faculty or residents/clinical fellows are not authorized to use EZproxy off-campus.
PROXY THE BROWSER URL WITH THE EZPROXY BOOKMARKLET
The EZproxy bookmarklet allows you to connect to licensed resources if you started outside the library's website. The bookmarklet, like the EZproxy prefix, will proxy the URL and identify you/your connection to the resource publisher/vendor as an authorized Weill Cornell user/IP.
How to Install/Add the Bookmarklet
Drag the button below to your browser's bookmarks toolbar. Then, just click it any time you want to access your current page via EZProxy.
If you are having problems dragging the bookmarklet above then try "Right Click" on your mouse for other options to save the bookmark.
Alternatively, you can create your own bookmark then edit it and add the following:
javascript:void(location.href="http://ezproxy.med.cornell.edu/login?url="+location.href)
ADDING THE EZPROXY PREFIX TO THE BROWSER URL
1. Locate the URL/Web address in your browser's address bar as in the Firefox example below.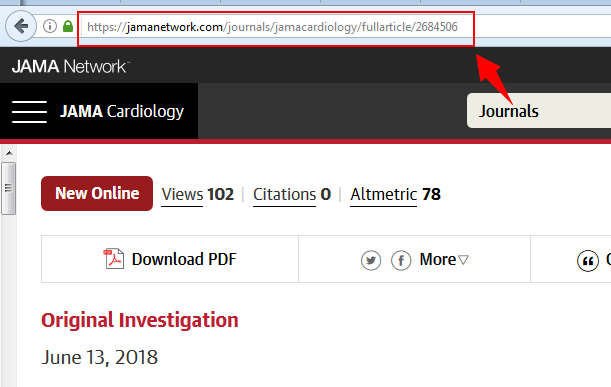 2. Copy this EZproxy prefix: http://ezproxy.med.cornell.edu/login?url=
3. Append it to the beginning of the URL in the address bar to create a link like this:
http://ezproxy.med.cornell.edu/login?url=https://jamanetwork.com/journals/jamacardiology/fullarticle/2684506
4. Reload the page to proxy the URL.
If your link doesn't work, please contact us.
Note: Not all URLs can be used in this way because they may contain code specific to your particular browsing/searching session. Please keep in mind that the library does not subscribe to all journals and databases.
Having Problems?