When accessing the Library's website from outside the Weill Cornell network, users will see the message "You are connected from outside the Weill Cornell Medical College network" below the search panel on the library's homepage.  Authorized users will need to authenticate using EZproxy to access library resouces.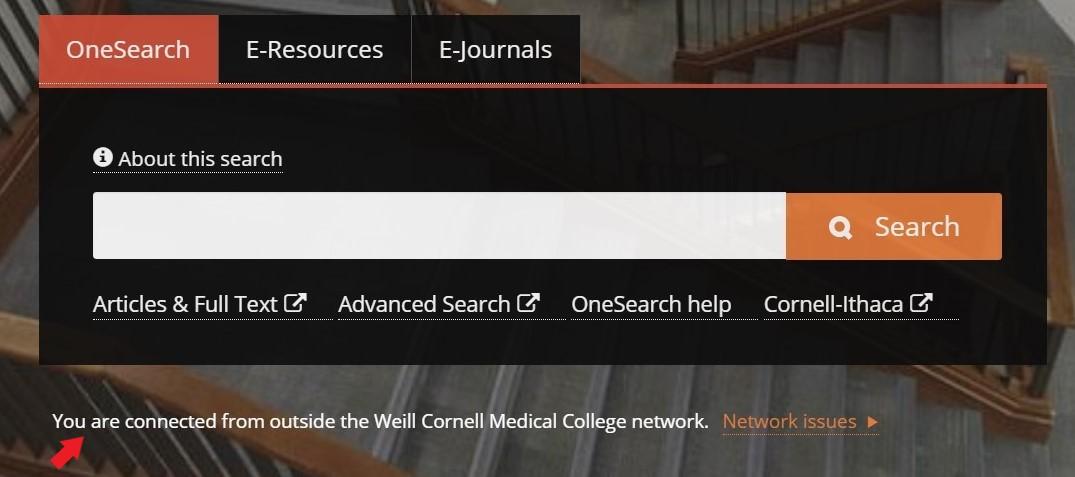 EZproxy
EZproxy is a service that allows Weill Cornell's current faculty, students, staff and NewYork-Presbyterian/Weill Cornell's residents and fellows to remotely access the library's subscribed (paid) electronic content such as e-journals, e-books, and other e-resources while off-campus. EZproxy is replacing WebVPN and VPN for remote access to the library's resources. WebVPN has become incompatabile with the library's electronic resources and EZproxy as a better method for remote off-campus access; In addition, EZproxy will allow the library to be in compliance with the license agreements to restrict access to authorized users. Effective January 9, 2017,  EZproxy will be the method of accessing library resources off-campus. 
How to use: No set up or login to WebVPN is required. Go directly to the library's website without logging into WebVPN. When you click on a library resource such as UpToDate that requires EZproxy, you will be prompted to select Weill Cornell or NYP* then login with your credentials. Your session will remain active for two hours within the same browser and you will be able to switch to and from one electronic resource to another without having to re-authenticate. You can log out of EZproxy by quitting your browser.  For additional information and questions, visit How to use EZproxy and the EZproxy FAQ page. 
NYP*: Access is restricted to residents and fellows.
VPN Client and Resident WebVPN
Virtual Private Network (VPN) and VPN Client services are provided by Information Technologies & Services (ITS) department. These services will be able to access library resources until January 9, 2017. After that, VPN will require you to re-authenticate with EZproxy to use library resources. For additional information and questions, visit How to use EZproxy and the EZproxy FAQ page.

NOTE: VPN Client enabled on mobile devices will continue to provide remote access to library content on mobile Apps.